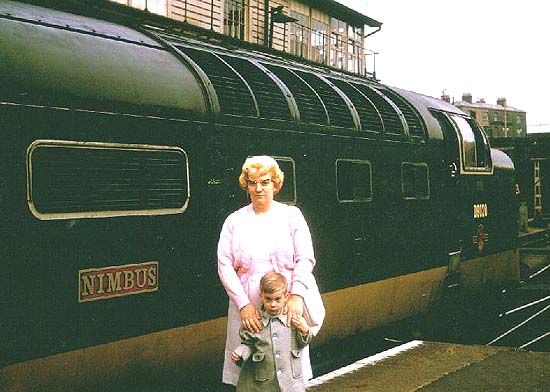 0212 - Photo: Paul Gildersleve.
D9020 "NIMBUS" waits departure at King's Cross during August 1965 with the unofficially entitled "The Junior Scotsman" the 10:10 King's Cross - Edinburgh service (the first Edinburgh service out of King's Cross following the 10:00 "The Flying Scotsman" departure). The young gent with his mum is none other than "Deltic Desperado" Paul Gildersleve who was about to enjoy his first Deltic haulage.
Paul's article "Deltic Desperado" can be found in Classic Diesel & Electrics issue No.8 (Nov/Dec 1998). It outlines his great love of the class, a few of his many memories and a further explanation as to why his mum is between him and the monster behind - find yourself a copy it's well worth reading.
Post Script: Paul has recently added the book "Deltic Dynasty" to his repertoire - this can still be found at various leading outlets.