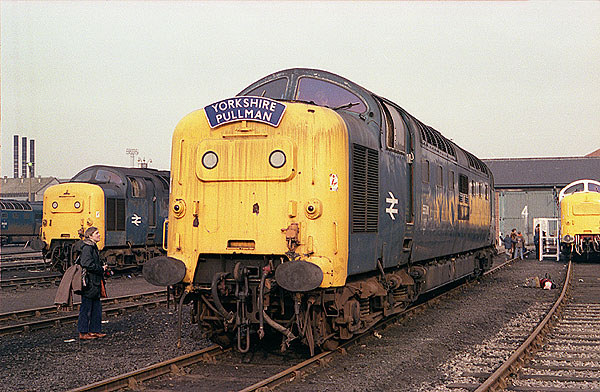 1488 - Photo: Paul Bettany.
55008 (D9011) "THE ROYAL NORTHUMBERLAND FUSILIERS" at Doncaster Works on the 27th February 1982...
...55011's final service train was the 1A45 22:55 Newcastle - King's Cross on the 5th November 1981. 55011 had been running on one power unit since the 1st October and was awaiting a power unit under repair at Doncaster Works. Celebrity loco 55022 (D9000) "ROYAL SCOTS GREY", itself on decision at York TMD, also required a replacement power unit and it was decided to withdraw 55011 and donate its good engine to 55022. The repaired unit at Doncaster, the last to receive attention there, was fitted instead to 55017.
| | |
| --- | --- |
| | 27/02/82 - Locomotive on display at Doncaster Works Deltic farewell open day. Deltic Deadline No.26: Page 10. |
| | 27/02/82 - Locomotive on display at Doncaster Works Deltic farewell open day. In Memory of the Deltics: Final Gathering. |
| | 27/02/82 - Locomotive on display at Doncaster Works Deltic farewell open day. Last Days of the Deltics: Page 39. |
| | 27/02/82 - Locomotive on display at Doncaster Works Deltic farewell open day. Swansong in Camera: Page 31. |