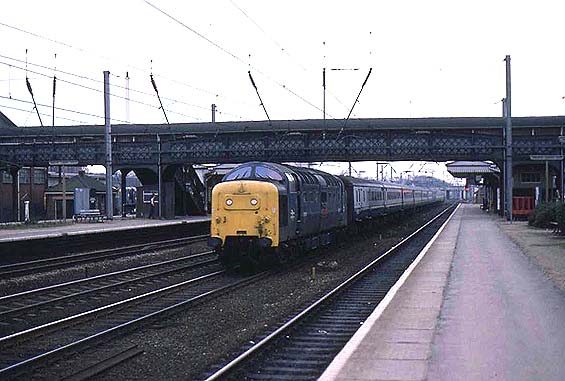 0774 - Photo: John Smith.
In the days when Deltics still had control over the main Anglo-Scottish expresses 55019 (D9019) "ROYAL HIGHLAND FUSILIERS" powers through Welwyn Garden City on 8th March 1978 with the 1S35 14:00 King's Cross - Aberdeen which the locomotive would take as far as Edinburgh.
55019 had been out-shopped from Doncaster Works following an unclassified repair a few days previously on 5th March, though the locomotive had been out of service from 15th January awaiting power units. During 1978 Doncaster Works suffered chronic shortages of spare power units for the class resulting in lengthy sojourns for the locomotives at the works. Often a locomotive would come onto works requiring one power unit only to be robbed of its good one in favour of another member of the class. Such was the case when 55019 entered Doncaster in January 1978: No.2 power unit 458 was dephased and both main generators had flashover damage with suspect flashover damage to all traction motors. As a result No.1 power unit 407 was donated to 55022 and later replaced by 538. 458, the original damaged unit, was replaced by power unit No. 429.