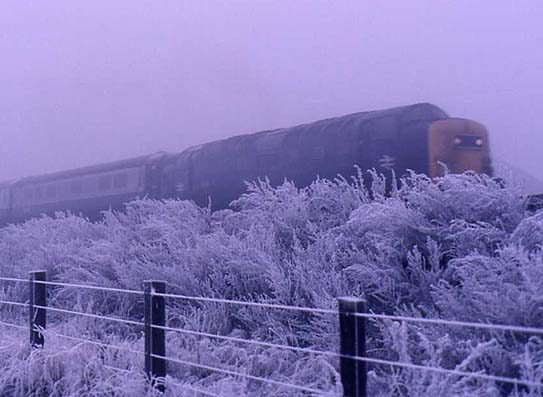 0773 - Photo: John Smith.
Amidst a hoary frost, at approximately 07:45 on the morning of 1st December 1978, 55022 (D9000) "ROYAL SCOTS GREY" gets the 1S12 07:41 Newark - Aberdeen away from a very cold scene at Newark.
Whilst the work on Stoke and Peascliffe tunnels had been in progress the 1S12 05:50 King's Cross - Aberdeen ran via the Joint Line and was diverted to terminate at Leeds. As a result the Aberdeen service started from Grantham whilst Stoke tunnel was closed and from Newark when Peascliffe was closed - The 07:41 Newark - Aberdeen was formed by working the empty stock up to Newark at about 06:40, the locomotive running round in the down yard.