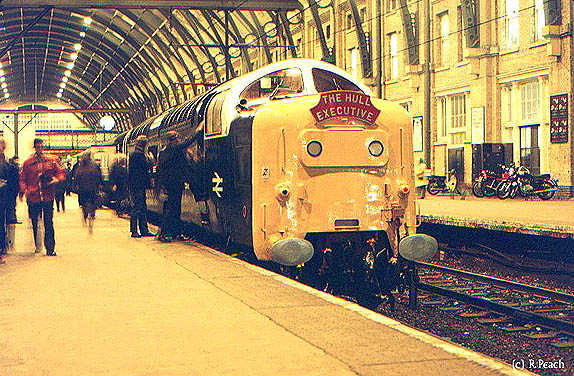 0957 - Photo: Bob Peach.
On Saturday 3rd January 1981 the penultimate loco hauled 1D04 17:05 King's Cross - Hull service waits to depart King's Cross with 55007 (D9007) "PINZA" providing motive power. 55007 had been specially prepared by Finsbury Park TMD for the final appearances of Deltic locomotives on the "Hull Executive" services - the locomotive had been cleaned and red buffer beams and silver painted buffers had been applied...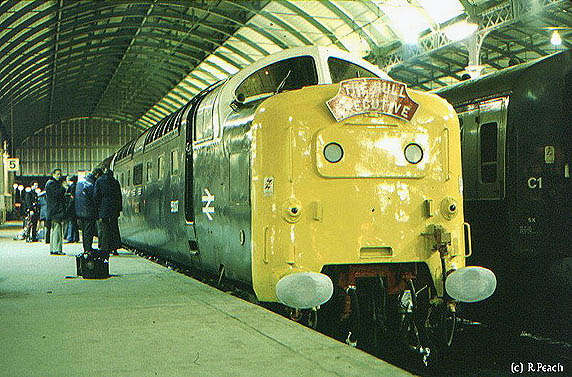 0956 - Photo: Bob Peach.
...After arrival at Hull 55007 rests with the 1D04 17:05 service from King's Cross. The Saturday and Sunday services were actually untitled, however, the headboard was carried for continuity throughout the final week of locomotive operation. 55007 would be handed the honour of hauling the final loco hauled 1D04 the following day, Sunday 4th January 1981, after which both up and down "Hull Executive" services passed into HST operation.
| | |
| --- | --- |
| | 03/01/81 - Finsbury Park TMD. In Memory of the Deltics: 55007 section. |
| | 03/01/81 - 1D04 17:05 King's Cross - Hull (with "Hull Executive" headboard). Deltic Deadline No.19: Page 16. |
| | 03/01/81 - 1D04 17:05 King's Cross - Hull (with "Hull Executive" headboard). Deltic Locomotives of British Rail: Page 95. |