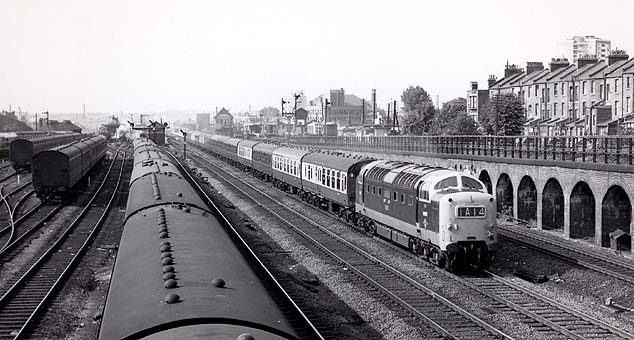 0936 - Photo: Peter Groom.
With fatalities high on the railways during the 1960's, and the Deltic locomotives playing a significant part in the statistics, trials were undertaken to ascertain the best place in which to locate the air horns for audible purposes. Three locomotives were chosen to participate in the trials: D9007 "PINZA" received the most aesthetic changes having the horns located into the top right hand and left hand sides of the nose cones, D9016 "GORDON HIGHLANDER" retained the buffer beam situated horns (as fitted to all other members) and D9018 "BALLYMOSS" had the horns fitted on top of the bonnets in front of the cab windows. During November 1966 all three locomotives were lined up at Great Ponton on the ECML and audible test carried out. D9018 was judged to have the best position to locate the horns and all locomotives were modified soon after - the Deltics retaining bonnet mounted air horns until withdrawal in 1981.
Above D9007 "PINZA" is clearly seen with the horns fitted into the nose cone as it passes Finsbury Park on the 5th July 1967 with the 1A14 09:00 service for Newcastle.