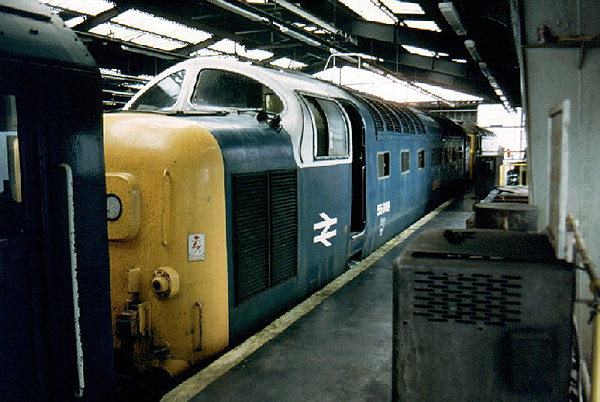 1325 - Photo & ©: Bob Peach.
Following fire damage whilst hauling the 1A18 12:34 Hull - King's Cross on May 24th 1980 55009 (D9009) "ALYCIDON" was assisted into the capital by 31405 and retired to home depot Finsbury Park for attention - seen there on Monday 26th May...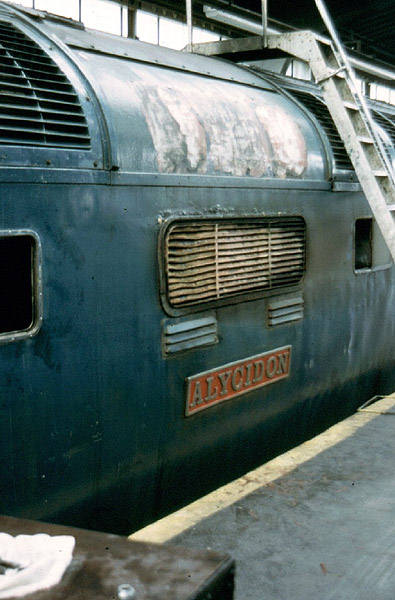 1324 - Photo & ©: Bob Peach.
...Fire damage to the air intake filter is clearly seen whilst at Finsbury Park on 26th May 1980...

1323 - Photo & ©: Bob Peach.
...Although work had commenced at Finsbury Park the extent of 55009's fire damage required works attention and it was towed to Doncaster by 55022 (D9000) "ROYAL SCOTS GREY" on the 30th May. No.1 power unit 436 had water ingress and No.2 power unit 427 had a scavenger defect which had caused the fire. There was also fire damage to the inlet pipe, filters and bodyside battery box on the R/H/S - power unit 436 had an injector change and 427 was replaced by power unit 444. 55009 was released from works on the 11th June.