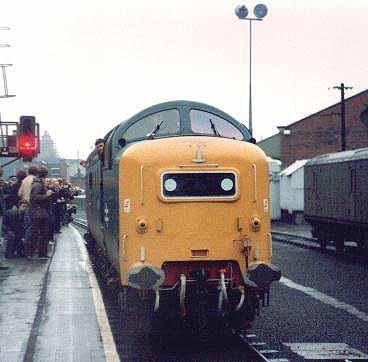 0905 - Photo: Paul Gildersleve.
55022 (D9000) "ROYAL SCOTS GREY" backs onto its final train under BR ownership at Edinburgh on 2nd January 1982...
...55022 (D9000) "ROYAL SCOTS GREY", suitably adorned with wreath and headboard, awaits the departure of the 1F50 14:30 Edinburgh - King's Cross "Deltic Scotsman Farewell" railtour at Edinburgh Waverley on the 2nd January 1982...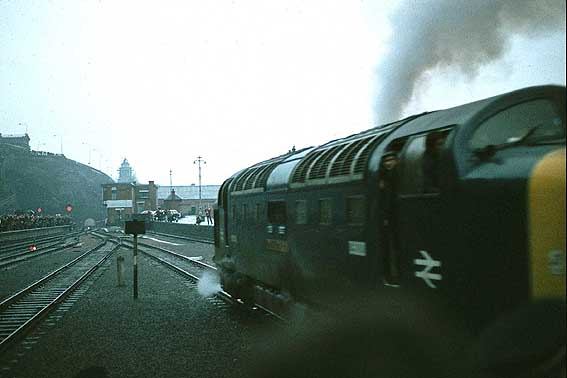 0152 - Photo: Mike Cooper.
...Going out in style - 55022 (D9000) "ROYAL SCOTS GREY" blasts away from Edinburgh Waverley with the "Deltic Scotsman Farwell" railtour...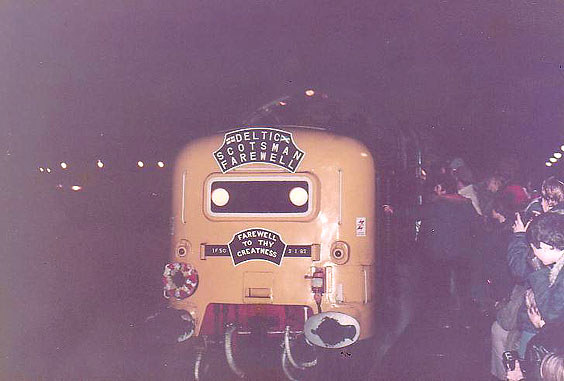 0414 - Photo: Youngie (Sacramento, CA).
55022 waits at Doncaster on the return journey with one or two admirers!!
Doncaster was used as a crew change stop in both directions and was the only scheduled stop of the journey from King's Cross to Edinburgh and return...
...Farewell To Thy Greatness...
...End of an era as D9000/55022 "ROYAL SCOTS GREY", greeted by TV camera crews, arrives back at King's Cross...
...It's all over as 55022 (D9000) "ROYAL SCOTS GREY" rests at King's Cross buffer stops...
...The arrival at King's Cross at 20:04 was met by crowds of people, in varying degrees of emotion, those who have seen the news reports shown that night will have even witnessed one gentleman kneeling down and kissing the locomotive!...
...The very last run...
...Following numerous shut down and restarts of the engines at King's Cross 55022 finally worked light to York, and is seen above as it disappeared into the night, on arrival at York the locomotive was withdrawn from service.
| | |
| --- | --- |
| | 02/01/82 - 1F50 14:30 Edinburgh - King's Cross "The Deltic Scotsman Farewell" railtour Deltic Deadline No.25: Page 3 & 15. |
| | 02/01/82 - 1F50 14:30 Edinburgh - King's Cross "The Deltic Scotsman Farewell" railtour Deltic Deadline No.26: Page 18. |
| | 02/01/82 - 1F50 14:30 Edinburgh - King's Cross "The Deltic Scotsman Farewell" railtour Last Days of the Deltics: Page 36. |
| | 02/01/82 - 1F50 14:30 Edinburgh - King's Cross "The Deltic Scotsman Farewell" railtour Rail Portfolio No.3: Page 61. |
| | 02/01/82 - 1F50 14:30 Edinburgh - King's Cross "The Deltic Scotsman Farewell" railtour Deltic Swansong in Camera: Page 25, 26 & 27. |
| | 02/01/82 - 1F50 14:30 Edinburgh - King's Cross "The Deltic Scotsman Farewell" railtour Tribute to the Deltics: Page 45. |
| | 02/01/82 - 0F50 King's Cross - York. Deltic Deadline No.26: Page 16. |