_________________ Major Component Files _________________
_________ Series 3 Power Unit 538 _________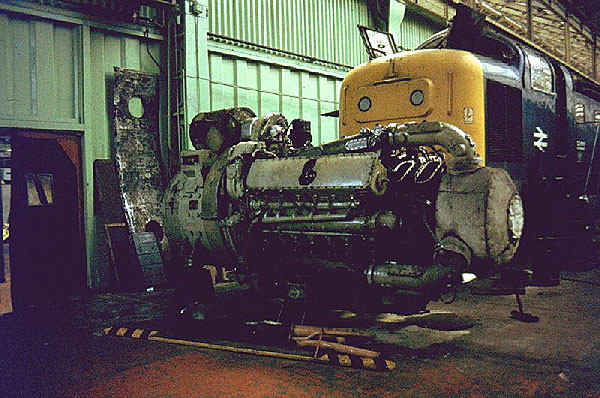 Photo: Bob Peach.
Series 3 power unit No. 538 removed from 55019 (D9019) "ROYAL HIGHLAND FUSILIER" (seen behind) at Doncaster Works on the 4th May 1978.
A victim of putting a 'leg-out-of-bed' it had thrown A3 con rod and piston through its crankcase...
...Close up of power unit No.538 at Doncaster Works on 4th May 1978 with its damaged crankcase.
The reference is highlighted below in 538's history table...
Locomotive:

Installation:
(No.1/2 End)

Off Works:
(Fitted)

On Works:
(Removed)

Fault/Reason For Removal:

Notes:

01

D9015

1

06/05/64

12/07/65

Water in sump

In DONC

02

D9007

1

20/09/65

01/12/66

Loco due classified repair

03

D9005

1

15/04/67

21/08/67

Oil leak (damaged sump)

04

D9003

1

14/02/68

26/02/68

Suspect seized piston

05

D9014

2

06/06/68

03/02/69

Suspect fractured liner

06

D9012

2

04/06/69

30/01/70

Loco due classified repair

07

D9012

1

07/02/70

19/05/70

No details

08

9010

1

10/06/70

24/08/70

Loco due classified repair

No record of use between 24/08/70 – 03/06/71

09

9001

2

03/06/71

06/09/72

Reported 'knocking noise'

10

9014

2

25/10/72

20/11/72

Fractured liner

11

9006

1

08/12/72

08/12/72

Main generator fault

12

9001

2

21/12/72

08/01/73

3A 'C' bank injector & plug blown out

13

9003

2

08/02/73

01/05/74

Breathing heavy & throwing oil

14

55014

1

19/07/74

12/09/74

Dephased

15

55004

2

12/10/74

04/12/74

Aerating

16

55002

1

31/12/74

08/02/75

Breathing heavy

17

55016

2

28/02/75

05/07/75

Loco due classified repair

18

55012

2

07/07/75

11/09/75

Dephased

19

55005

1

02/12/75

05/08/76

No details

20

55011

1

26/08/76

16/02/77

Main generator replaced

21

55012

2

27/04/77

19/01/78

Aerating & other faults

22

55019

1

05/03/78

27/04/78

'A3' con rod through crankcase

23

55008

1

03/08/78

11/01/79

Output shaft sheared

24

55007

1

01/02/79

25/10/79

Dephased

25

55008

2

18/12/79

07/07/80

Suspect fractured liner

26

55014

2

26/08/80

16/06/81

Suspect fractured liner

27

55015

1

31/08/81

Installed in 14 locomotives: 01/02/03/04/05/07/08/10/11/12/14/15/16/19
55015 withdrawn 02/01/82 & sold for preservation 02/84 – power unit 538 still fitted