_________________ Major Component Files _________________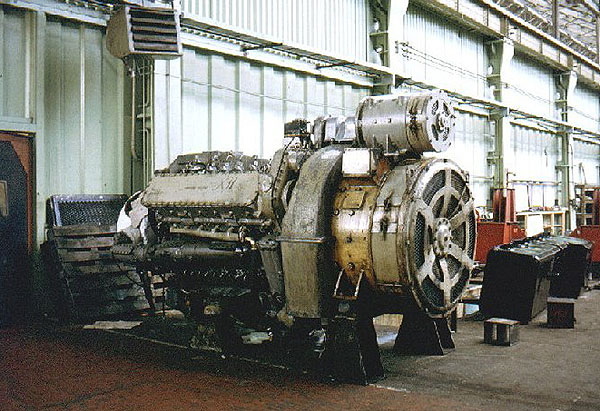 1372 - Photo: Bob Peach
A Napier Deltic D18-25B engine and generator, more commonly known as a 'power unit',
is seen in the Crimpsall erecting shops at Doncaster Works on the 31st October 1980.
Thought to be one of the two units destined for 55002 its serial number would be either 407 or 445.
A detailed photographic section of major components can be found in section 11 below.
Sections:
<![if !supportLists]> 1. <![endif]> Locomotives
<![if !supportLists]> 2. <![endif]> Power Units (series 2)
<![if !supportLists]> 3. <![endif]> Power Units (series 3)
<![if !supportLists]> 4. <![endif]> Power Units (anomaly/unknown)
<![if !supportLists]> 5. <![endif]> Bogies (fabricated)
<![if !supportLists]> 6. <![endif]> Bogies (cast)
<![if !supportLists]> 7. <![endif]> Boiler (Spanner Mk II 'Swirlyflo')
<![if !supportLists]> 8. <![endif]> Boiler (Clayton)
<![if !supportLists]> 9. <![endif]> Boiler (unknown origin)
<![if !supportLists]> 10. <![endif]> Boiler (unknown origin)
13. Preserved Power Unit Final Component Summary
14. Works Time Line
Locomotive:

Position:

Delivered:

Withdrawn:

Notes:

P/U

Bogies

Boiler

P/U

Bogies

Boiler

1

(413/4xx)

1001

1494/J2950

434

9000-3

1495/J2951

Preserved 09/83

2

(413/4xx)

1002

413

9000-4

1

404

1003

1495/J2951

430

9000-47

5089/J3240

Withdrawn 05/01/80

2

410

1004

438

9000-22

1

408

1005

1487/J2943

457

9000-17

5092/J3243

Preserved 01/82

2

407

1006

449

9000-18

1

415

1007

1488/J2944

422

9000-47

5088/J3239

Withdrawn 31/12/80

2

414

1008

415

9000-22

1

416

1009

5090/J3241

430

9000-25

5090/J3241

Withdrawn 01/11/81

2

417

1010

427

9000-26

1

4xx

1011

xxxx/Jxxxx

458

9000-49

5091/J3242

Withdrawn 08/02/81

2

412

1012

434

9000-50

1

419

1013

1489/J2945

415

9000-13

J2905

Withdrawn 08/02/81

2

418

1014

441

9000-14

1

422

1015

1492/J2948

404

9000-21

1497/J2953

Withdrawn 31/12/81

2

421

1016

423

9000-41

1

424

1017

1493/J2949

430

9000-19

(1486/J2942)

Withdrawn 31/12/81

2

423

1018

415

9000-20

1

428

1019

1486/J2942

417

9000-33

1494/J2950

Preserved 05/82

2

427

1020

419

9000-34

1

443

1021

1490/J2946

438

9000-37

(1491/J2947)

Withdrawn 24/12/81

2

447

1022

454

9000-38

1

429

1023

1496/J2952

421

9000-46

1489/J2945

Withdrawn 08/11/81

2

430

1024

452

9000-42

1

434

1025

5087/J3238

419

9000-45

5087/J3238

Withdrawn 18/05/81

2

435

1026

438

9000-46

1

(436)

1027

5089/J3240

441

9000-1

5096/J3247

Withdrawn 20/12/81

2

(412)

1028

416

9000-2

1

437

1029

5086/J3237

442

9000-7

5094/J3245

Withdrawn 22/11/81

2

439

1030

449

9000-8

1

4xx

1031

5088/J3239

538

9000-31

1496/J2952

Preserved 02/84

2

442

1032

408

9000-32

1

444

1033

5092/J3243

406

9000-11

5095/J3246

Preserved 10/83

2

438

1034

418

9000-12

1

(445)

1035

5091/J3242

424

9000-24

5097/J3248

Withdrawn 31/12/81

2

(445)

1036

422

9000-48

1

409

1037

5093/J3244

410

9000-23

1492/J2948

Withdrawn 18/10/81

2

413

1038

453

9000-30

1

442

1039

5094/J3245

451

9000-15

5098/J3249

Preserved 05/82

2

440

1040

407

9000-16

1

454

1041

5097/J3248

453

9000-9

5086/J3237

Withdrawn 05/01/80

2

453

1042

422

9000-42

1

415

1043

5098/J3249

439

9000-27

5093/J3244

Withdrawn 31/12/81

2

416

1044

445

9000-28
Component

Number:

First fitted/At:

Loco:

Last fitted:

Loco:

Unique

Installations:

Total

Installations:

Notes:

17/01/61 VF

D9001

07/05/81

55007

18

26

Scrapped after 04/01/82

12/04/62 DONC

D9011

18/11/79

55011

17

29

Scrapped after 03/12/80

15/08/62 DONC

D9006

07/09/81

55016

20

35

Fitted to 55016

09/03/61 VF

D9002

09/11/81

55019

14

25

Fitted to 55019

09/03/61 VF

D9002

16/03/07

D9009

17

28

Fitted to D9009

24/11/61 VF

D9018

25/02/81

55017

14

29

Scrapped after 24/04/81

17/01/61 VF

D9001

21/08/80

55018

15

26

Scrapped after 24/11/81

27/09/62 DONC

D9016

24/06/76

55011

18

25

Scrapped after 25/01/77

25/05/61 VF

D9005

01/05/80

55013

16

32

Scrapped after 25/11/80

28/02/61 VF

D9000

09/07/81

55022

17

34

In store Beaver Sports

27/03/61 VF

D9003

17/05/79

55017

16

28

Scrapped after 26/09/80

27/03/61 VF

D9003

09/03/81

55008

15

28

In store Barrow Hill

18/05/61 VF

D9004

28/11/80

55013

19

31

Scrapped after 23/01/82

18/05/61 VF

D9004

03/07/81

55009

17

31

In store Barrow Hill

29/06/61 VF

D9006

24/02/10

55022

17

37

Fitted to 55022

29/06/61 VF

D9006

18/09/81

55009

16

32

In store Barrow Hill

02/11/61 VF

D9003

07/06/80

55006

17

27

Scrapped after 30/12/80

22/06/61 VF

D9007

23/11/81

55011

18

32

Scrapped after 24/11/81

22/06/61 VF

D9007

01/05/81

55017

17

28

Scrapped after 23/01/82

07/07/61 VF

D9008

30/10/81

55007

15

31

In store Barrow Hill

07/07/61 VF

D9008

24/01/00

55019

20

39

Fitted to 55019

12/01/62 RSH

D9009

15/07/81

55021

15

28

Scrapped after 05/10/81

13/12/61 DONC

D9001

05/09/80

55022

20

28

Scrapped after 06/07/81

21/07/61 VF

D9009

11/09/81

55004

16

35

Scrapped after 05/01/82

21/07/61 VF

D9009

29/10/80

55019

17

30

Scrapped after 07/10/81

24/08/61 VF

D9011

23/02/80

55013

17

30

Scrapped after 02/02/81

24/08/61 VF

D9011

12/11/81

55008

18

36

In store Barrow Hill

01/05/62 RSH

D9013

21/03/75

55005

15

20

Scrapped after 01/12/75

10/05/62 RSH

D9008

23/11/81

55004

13

31

Scrapped after 05/01/82

10/05/62 RSH

D9008

28/11/79

55015

16

28

Scrapped after 22/09/80

04/09/61 VF

D9012

11/11/81

55022

16

38

Fitted to 55022

04/09/61 VF

D9012

17/06/80

55017

16

32

Scrapped after 17/02/81

(14/09/61 VF)

(D9013)

24/03/79

55009

13

28

Scrapped after 30/06/81

29/09/61 VF

D9014

05/12/81

55014

16

35

Scrapped after 05/12/81

27/10/61 VF

D9016

27/08/81

55010

20

32

Scrapped after 24/12/81

29/09/61 VF

D9014

15/10/81

55021

18

35

In store Barrow Hill

11/12/61 VF

D9019

20/10/76

55015

18

26

Scrapped after 22/11/76

03/11/61 DONC

D9004

31/03/81

55013

15

26

Scrapped after 23/01/82

13/10/61 VF

D9015

06/03/81

55014

19

28

Scrapped after 05/12/81

24/07/61 VF

D9010

30/09/80

55017

14

32

Scrapped after 13/11/81

27/10/61 VF

D9016

11/06/80

55009

14

26

Scrapped after 14/09/81

09/11/61 VF

D9017

05/06/81

55021

15

26

Scrapped after 04/01/82

28/02/62 RSH

D9002

10/10/79

55018

17

28

Scrapped after 28/04/81

24/07/61 VF

D9010

30/10/80

55015

18

28

Scrapped after 26/08/81

xx/06/62 RSH

D9010

17/06/81

55019

18

31

Scrapped after 03/08/81

03/11/61 DONC

D9004

26/11/81

55002

18

29

Fitted to 55002

12/01/62 RSH

D9009

19/04/75

55018

11

23

Scrapped after 16/12/75

13/12/61 DONC

D9001

15/06/01

D9009

15

36

In store Barrow Hill

15/12/61 RSH

D9009

08/12/80

55011

16

30

Scrapped after 24/11/81

12/02/62 VF

D9020

23/11/81

55018

16

29

Scrapped after 24/11/81

12/02/62 VF

D9020

05/03/81

55010

17

27

Scrapped after 24/12/81

20/04/63 DONC

D9001

15/07/81

55014

20

32

Scrapped after 23/09/81

(05/07/61 VF)

D9000

30/09/75

55018

16

22

Scrapped after 31/12/75

(05/07/61 VF)

D9000

11/09/81

55002

18

31

Fitted to 55002

458

03/11/61 (RSH)

D9015
06/08/81
55019
18
30

(Cut-away display NRM)

5

20/05/07 (ELR Bury)
Ex Marine Unit

55022

24/02/10

D9016

2

2

Fitted to D9016
P/U awaiting repairs
Component

Number:

First fitted/At:

Loco:

Last fitted:

Loco:

Unique

Installations:

Total

Installations:

Notes:

06/05/64 DONC

D9015

31/08/81

55015

15

28

Fitted to 55009

06/05/64 DONC

D9015

17/11/80

55016

17

23

Scrapped after 09/03/81

5
Ex Marine Unit
-
-
-
-
-
In store Beaver Sports
Component

Number:

First fitted:

Loco:

Last fitted:

Loco:

Unique

Installations:

Total

Installations:

Notes:

-

-

-

-

-

-
5. Bogies (original fabricated):
Component

Number:

First fitted/At:

Loco:

Last fitted:

Loco:

Unique

Installations:

Total

Installations:

Notes:

28/02/61 VF

D9000

04/04/65

D9001

7

9

28/02/61 VF

D9000

30/04/65

D9007

9

9

17/01/61 VF

D9001

09/03/65

D9021

9

9

17/01/61 VF

D9001

09/03/65

D9021

9

9

09/03/61 VF

D9002

07/12/64

D9016

6

7

09/03/61 VF

D9002

07/12/64

D9016

6

7

27/03/61 VF

D9003

07/05/65

D9004

7

9

27/03/61 VF

D9003

07/05/65

D9004

7

9

18/05/61 VF

D9004

23/01/65

D9003

8

10

18/05/61 VF

D9004

23/01/65

D9003

8

10

25/05/61 VF

D9005

05/01/64

D9011

5

6

25/05/61 VF

D9005

05/01/64

D9011

5

6

29/06/61 VF

D9006

29/05/65

D9000

8

10

29/06/61 VF

D9006

20/05/65

D9020

8

10

22/06/61 VF

D9007

13/05/65

D9003

6

9

22/06/61 VF

D9007

13/05/65

D9003

6

9

07/07/61 VF

D9008

31/01/65

D9011

8

9

07/07/61 VF

D9008

04/02/65

D9020

11

13

21/07/61 VF

D9009

15/04/65

D9002

7

8

21/07/61 VF

D9009

15/04/65

D9002

7

8

24/07/61 VF

D9010

23/03/65

D9010

7

8

24/07/61 VF

D9010

23/03/65

D9010

7

8

24/08/61 VF

D9011

06/05/65

D9013

9

11

24/08/61 VF

D9011

06/05/65

D9013

9

11

04/09/61 VF

D9012

04/02/65

D9020

11

11

04/09/61 VF

D9012

31/01/65

D9011

7

7

14/09/61 VF

D9013

27/02/65

D9014

6

8

14/09/61 VF

D9013

29/05/65

D9000

9

9

29/09/61 VF

D9014

20/05/65

D9020

10

10

29/09/61 VF

D9014

27/02/65

D9014

8

9

13/10/61 VF

D9015

18/03/65

D9005

7

9

13/10/61 VF

D9015

18/03/65

D9005

7

9

27/10/61 VF

D9016

26/03/65

D9012

8

9

27/10/61 VF

D9016

26/03/65

D9012

8

9

10/11/61 VF

D9017

28/04/65

D9015

9

10

10/11/61 VF

D9017

28/04/65

D9015

9

10

24/11/61 VF

D9018

04/06/65

D9018

6

9

24/11/61 VF

D9018

04/06/65

D9018

6

9

11/12/61 VF

D9019

29/05/65

D9008

7

8

11/12/61 VF

D9019

29/05/65

D9008

7

8

12/02/62 VF

D9020

24/04/65

D9009

11

11

12/02/62 VF

D9020

24/04/65

D9009

11

11

16/03/62 VF

D9021

19/01/65

D9006

6

7

16/03/62 VF

D9021

19/01/65

D9006

6

7

13/12/61 DONC

D9001

10/04/65

D9019

7

8

13/12/61 DONC

D9001

10/04/65

D9019

7

8

15/03/62 DONC

D9007

01/04/65

D9017

6

7

15/03/62 DONC

D9007

01/04/65

D9017

6

7

10/03/62 DONC

D9000

30/04/65

D9007

9

9

10/03/62 DONC

D9000

04/04/65

D9001

7

9
Component

Number:

First fitted:
(all DONC)

Locomotive:

Last fitted:

Locomotive:

Unique

Installations:

Total

Installations:

Notes:

09/07/65

D9011

23/02/80

55013

13

14

09/07/65

D9011

23/02/80

55013

13

14

14/07/65

D9016

30/03/77

55022

11

14

14/07/65

D9016

30/03/77

55022

11

14

17/07/65

D9014

10/11/76

55002

9

12

17/07/65

D9014

10/11/76

55002

9

12

21/07/65

D9013

10/12/79

55014

12

15

21/07/65

D9013

10/12/79

55014

12

15

24/07/65

D9018

02/03/76

55020

11

13

24/07/65

D9018

10/11/77

55016

12

14

02/08/65

D9005

05/03/80

55016

13

15

02/08/65

D9005

05/03/80

55016

13

15

10/08/65

D9012

21/06/79

55006

12

12

10/08/65

D9012

21/06/79

55006

12

12

14/08/65

D9004

27/05/80

55019

10

14

14/08/65

D9004

27/05/80

55019

10

14

23/08/65

D9007

11/12/80

55002

10

15

Still fitted to 55002

23/08/65

D9007

11/12/80

55002

10

15

Still fitted to 55002

29/08/65

D9006

26/08/80

55008

12

16

29/08/65

D9006

26/08/80

55008

12

16

18/09/65

D9017

19/09/80

55007

9

12

18/09/65

D9017

24/02/79

55003

11

13

23/09/65

D9001

10/10/79

55018

14

16

23/09/65

D9001

28/03/80

55017

15

16

28/09/65

D9000

28/06/80

55004

14

16

28/09/65

D9000

28/06/80

55004

14

16

03/10/65

D9021

20/02/81

55021

12

14

03/10/65

D9021

20/02/81

55021

12

14

11/10/65

D9015

10/11/77

55016

11

14

11/10/65

D9015

10/10/79

55018

13

16

17/10/65

D9009

05/05/79

55015

9

11

17/10/65

D9009

05/05/79

55015

9

11

23/10/65

D9002

19/12/80

55009

11

15

23/10/65

D9002

19/12/80

55009

11

15

29/10/65

D9019

24/03/79

55009

11

16

29/10/65

D9019

24/03/79

55009

11

16

20/11/65

D9020

17/10/80

55010

10

14

20/11/65

D9020

17/10/80

55010

10

14

29/11/65

D9018

18/11/79

55011

9

12

29/11/65

D9018

18/11/79

55011

9

12

17/12/65

D9010

19/09/80

55007

13

15

17/12/65

D9010

03/07/81

55011

11

14

11/01/66

D9008

24/12/70

9000

7

8

11/01/66

D9008

24/12/70

9000

7

8

06/02/66

D9021

31/03/79

55012

12

15

06/02/66

D9021

03/07/81

55011

12

16

17/03/66

D9018

24/02/79

55003

10

13

17/03/66

D9018

28/03/80

55017

12

14

14/05/66

D9008

20/02/81

55005*

10

14

*After withdrawal

14/05/66

D9008

20/02/81

55005*

10

14

*After withdrawal

7. Boiler (type: Spanner Mk II 'Swirlyflo')
Component

Number:

First fitted/At:

Loco:

Last fitted:

Loco:

Unique

Installations:

Total

Installations:

Notes:

21/07/61 VF

D9009

26/08/80

55008

9

13

Scrapped after 23/01/82
Officially 55010

09/03/61 VF

D9002

10/11/76

55002

9

11

Scrapped after 14/10/80

27/03/61 VF

D9003

10/12/74

55005

10

10

Scrapped after 11/12/76

29/06/61 VF

D9006

22/05/78

55011

9

12

Scrapped after 24/11/81

24/07/61 VF

D9010

02/08/73

9009

10

11

Scrapped after 01/07/74

07/03/63 DONC

D9021

17/10/80

55010

(10)

(11)

Scrapped after 24/12/81

Officially 55008

22/06/61 VF

D9007

10/12/77

55018

13

13

Scrapped after 24/11/81

07/07/61 VF

D9008

15/02/73

9018

7

7

Scrapped after 11/11/74

28/02/61 VF

D9000

24/03/79

55009

9

12

Still fitted to 55009

17/01/61 VF

D9001

22/09/79

55022

9

12

In Store Beaver Sports

24/08/61 VF

D9011

05/05/79

55015

10

12

Still fitted to 55015

15/08/62 DONC

D9006

25/11/78

55007

10

12

Scrapped after 04/01/82

29/09/61 VF

D9014

02/03/76

55020

10

12

Scrapped after 25/04/78

04/09/61 VF

D9012

30/10/74

55012

9

13

Scrapped after 15/06/81

13/10/61 VF

D9015

14/01/77

55003

9

10

Scrapped after 31/12/80

14/09/61 VF

D9013

05/11/74

55001

9

11

Scrapped after 24/03/78

18/05/61 VF

D9004

12/10/74

55004

9

11

Scrapped after 05/01/82

10/11/61 VF

D9017

08/08/79

55005

10

13

Scrapped after 21/02/81

27/10/61 VF

D9016

11/12/80

55002

11

13

Still fitted to 55002

24/11/61 VF

D9018

19/01/77

55021

10

11

Scrapped after 04/01/82

11/12/61 VF

D9019

29/03/75

9014

8

10

Scrapped after 05/12/81

27/09/62 DONC

D9016

27/04/76

55016

5

8

Still fitted to 55016

05/02/63 DONC

D9017

23/02/80

55013

10

12

Scrapped after 23/01/82

12/02/62 VF

D9020

19/01/78

55017

8

10

Scrapped after 23/01/82

16/03/61 VF

D9021

27/05/80

55019

11

13

Still fitted to 55019
Component

Number:

First fitted:

Locomotive:

Last fitted:

Locomotive:

Unique

Installations:

Total

Installations:

Notes:

07/05/63 DONC

D9008

-

-

1

1

Removed 29/04/65
Component

Number:

First fitted:

Locomotive:

Last fitted:

Locomotive:

Unique

Installations:

Total

Installations:

Notes:

15/01/67 DONC

D9000

-

-

1

1

Removed 02/08/67
Component

Number:

First fitted:

Locomotive:

Last fitted:

Locomotive:

Unique

Installations:

Total

Installations:

Notes:

28/06/77 DONC

55006

-

-

1

1

Removed 09/02/81